Reposted from Earth First! Newswire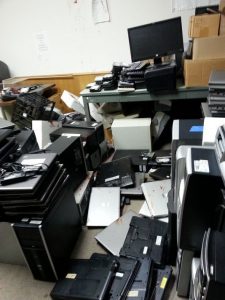 A disoriented 250-pound deer broke through two glass doors at an east-side computer store, thrashed — bleeding — through the business and flung a police officer over its back with its antlers before being tranquilized.
Indianapolis Metropolitan Police Department described the buck as "going berserk" and "terrorizing employees" before Animal Care and Control officers could subdue it.
"You just don't think of this type of thing happening in the city," said Bob Collins, the owner of Key Computer, 9040 E. 30th St. "I've never seen anything like it."
Collins said the surprise customer arrived at 10:30 a.m. Friday by breaking through the plate-glass front door that leads to a reception area. Inside the vestibule, the deer rooted about, frantically trying to escape but instead busted through another glass door leading to the 5,000-square-foot store, where it continued its rampage.
"Maybe he didn't know there was glass there or saw his reflection and was running toward it," Collins said.
There were no customers in the store so Collins and his five employees rushed to a separate office, locked the door and called police. Officers arrived within minutes but were unable to corral the animal. A sergeant wrote in his report that Officer Justin Callahan was injured when the deer ran down the hallway and "was able to gore Officer Callahan, stepped on his right foot and, with its 8-point antlers, threw him over its back."
When two animal control officers arrived later, their tranquilizer darts agitated the deer but didn't knock it out. The deer eventually sprinted out the front door and ran to a wooded area across the street, where it was captured.
Callahan suffered only "bumps and bruises," and was not hospitalized, said IMPD Sgt. Kendale Adams.
No employees at Key Computer were injured but broken glass was everywhere, a desktop computer was destroyed and blood was splattered on the walls, equipment and carpet.
"We had a lot of cleaning up to do," Collins said."It was very scary but it could have been worse if there were customers."