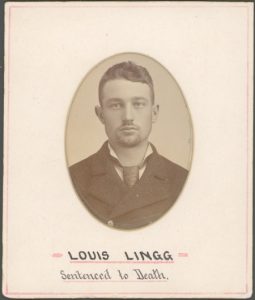 Louis Lingg was born on September 9, 1864 in Mannheim, Germany. Early in his life, he began working as a carpenter, eventually involving himself in revolutionary struggles. His politicization compelled him to evade military service, so he fled Germany for Switzerland, only to be expelled in 1885. That summer, Lingg immigrated to the United States, settling in Chicago, one of the epicenters of the vibrant German-American anarchist movement.
On May 3, 1886, police attacked a strike at the McCormick Harvesting Machine Company plant, killing two workers. The following day, during a rally against this brutal repression, police attacked demonstrators. In the melee that followed, an unidentified person threw a bomb into the crowd of police, killing seven of them and injuring many others. At least four other people were killed in the ensuing firefight between police and demonstrators.
In response, police, with little evidence, began rounding up anarchists who they claimed played a part in the bombing. Eight prominent anarchists – among them organizers, orators, and editors of popular anarchist newspapers – were sought by police: August Spies, Samuel Fielden, Adolph Fischer, Albert Parsons, Michael Schwab, George Engel, Oscar Neebe, and Louis Lingg. Initially evading capture, Lingg was discovered in hiding on May 14. Not one for willing submission to the state, Lingg fought the two police who tried to arrest him – first with a gun, then with fists.
While Lingg was not present at the Haymarket the day of the bombing, the state's dogs claimed he was involved in making the bomb. Though no evidence links him to the bomb thrower – whose identity remains a mystery to this day – Lingg was a prolific producer of bombs and an intransigent enemy of authority. In a search of Lingg's apartment, investigators discovered two spherical and four pipe bombs.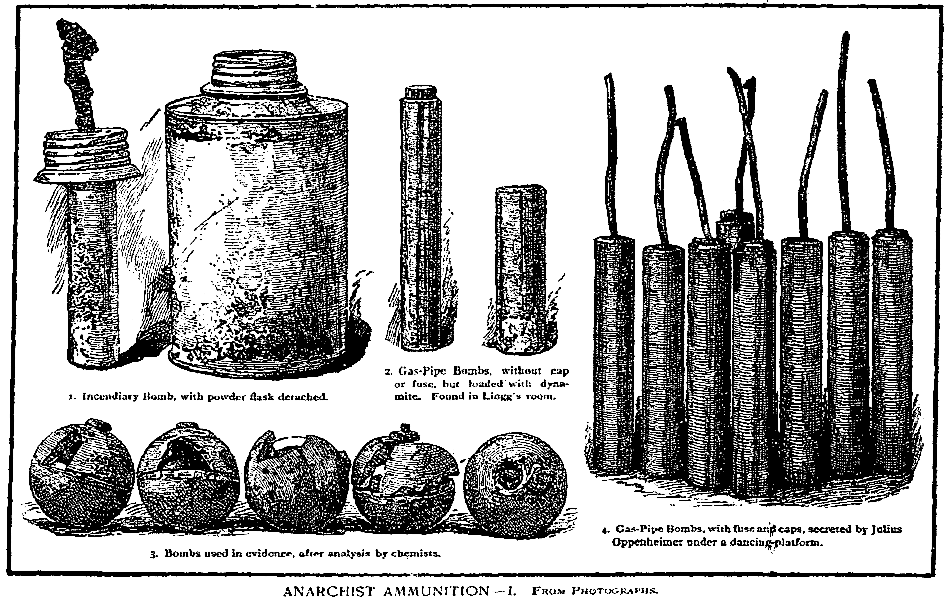 After a notoriously prejudiced trial, the judge sentenced seven of the Haymarket defendants to death by hanging and Oscar Neebe to 15 years in prison. At his sentencing, Lingg remained defiant, proclaiming "I die happy on the gallows, so confident am I that the hundreds and thousands to whom I have spoken will remember my words. When you shall have hanged us, then they will do the bombthrowing! In this hope do I say to you, I despise you, I despise your order, your laws, your force propped authority. Hang me for it."
On November 10, 1887, the day before their execution date, the Governor of Illinois commuted Samuel Fielden's and Michael Schwab's sentences to life in prison (Fielden, Schwab, and Neebe would all be released six years later after being pardoned by Governor John Altgeld). Albert Parsons, August Spies, George Engel, and Adolph Fischer were murdered by the state on November 11, 1887.
Louis Lingg chose a different response to his impending execution. Days after four bombs were discovered in his cell, Lingg placed a lit blasting cap in his mouth, blowing off his lower jaw. Before the guards could enter his cell, he scrawled "Hoch die anarchie!" ("Hurrah for anarchy!") on the prison cell stones in his own blood. Lingg died six hours later, refusing with his own suicide state authority's control over his life.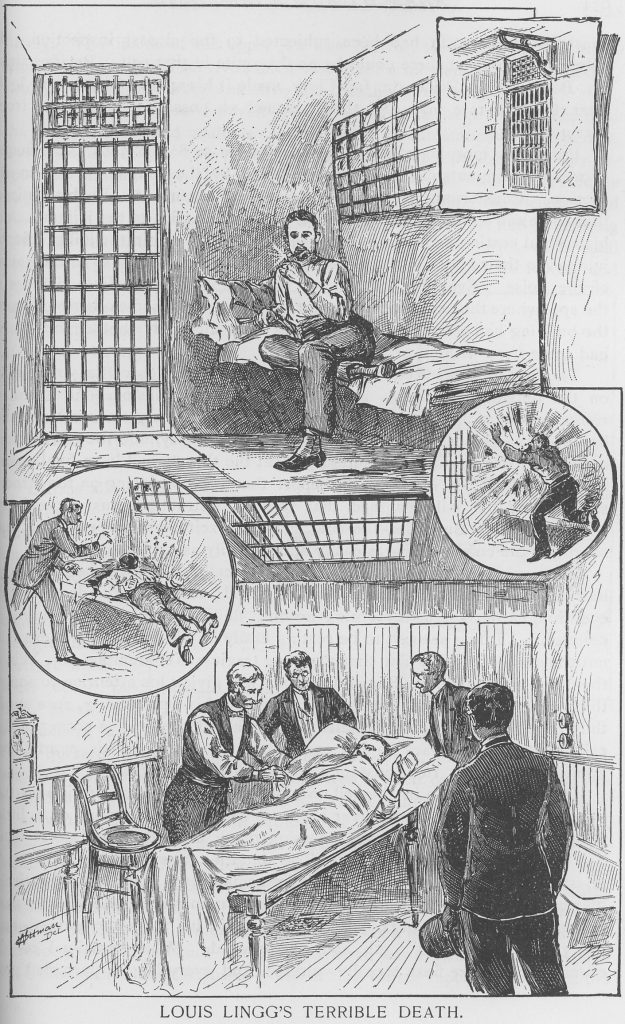 For more information on Louis Lingg and the Haymarket, read Paul Avrich's exhaustive and engaging book The Haymarket Tragedy.
***
To honor Louis Lingg's rebellious life, we present an unpublished poem he wrote in 1886, discovered in the Labadie Collection.
TO A TRODDEN PANSY
A broken stem, a pansy blossom crushed
In dirt, yet naught in all of Nature's store
Revels in scorn at what we all deplore
In it. Wert thou where careless footsteps rushed?
'Neath wanton lust wert thy fair petals brushed
E'en when thou smiled thy loveliest, before
Dark destiny had rolled its shadow o'er,
Ere yet thy innocence for cause had blushed?
Canst we read naught not writ in Custom's scroll?
Living and human, cast in a finer mold,
E'en while we mouthing boast a 'deathless soul,'
Yet still more wise than Nature, far more bold—
Regarding what in Nature is no loss
E'en while Hope's brightest mintage we call dross!