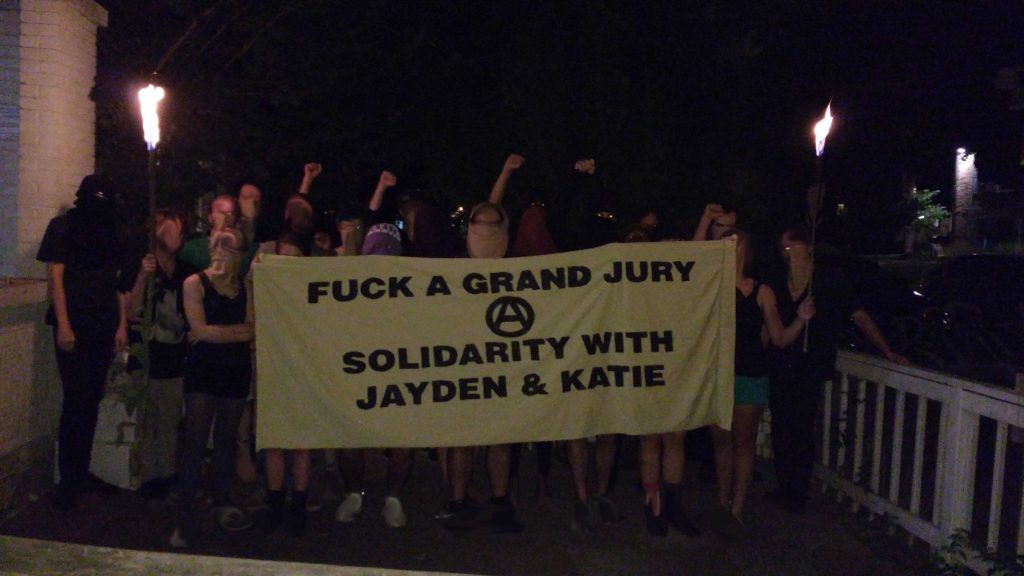 Grand Juries are an investigative tool often used by the state against people engaged in liberatory struggles. Towards the ultimate goal of securing indictments, they compel testimony (ie snitching), under threat of imprisonment. It is illegal to refuse to cooperate with a Grand Jury, and penalties range from empty threats to months or years in prison. In this way grand juries can be massively disruptive to organizing efforts and ongoing struggles even before a single indictment has come down. There is a long history of refusing to testify to grand juries (and an equally long history of those who don't refuse to testify getting, at minimum, expelled from radical communities, projects, and spaces).
Inspiring stories of grand jury resistance in the recent past range from New York City to Salt Lake City, Standing Rock, and the Pacific Northwest; from anarchist to animal liberation and indigenous struggles.
Most recently, two separate grand jury subpoenas have been served to anarchists in North Carolina, Katie Yow and Jayden Savino. The grand jury targeting Katie seems to be part of an investigation of what the government has described as a bombing at the GOP headquarters in Hillsborough, NC last fall. Because of the secret nature of grand juries, it is not yet clear what the investigation of Jayden is related to, but they appear to be different. However, the timing and location suggest a trend of increasing, coordinated state repression.
Both Katie and Jayden have openly and unequivocally refused to testify:
"I cannot begin to explain what defending the land and the people I call home means to me, but I want to express that my resistance to this grand jury comes from my fierce love for them. I was raised in movement by bold and resilient elders, inheriting histories of resistance that taught me what it means to fight from where you stand. I know people here will respond to this as we do the many other challenges we face: with care, creativity, joy, humor and resolve. Our struggle is long, and our lives are spent in commitment to it. I have spent over a decade organizing and building family with some of the bravest and kindest people I could imagine knowing. I have known, long before now, the depths of our strength, and it is with honor to that strength that I say that there is nothing on this earth that could compel me to degrade my integrity by testifying in a grand jury."
-Katie Yow
"The FBI is attempting to make myself and my community feel isolated and fearful. Unfortunately for the FBI, this harassment has done the opposite for myself, my community, and my family. This type of FBI repression is not a new phenomenon, and the state's efforts to target activists and dismantle movements is as American as genocide. While it is unclear what exactly is being investigated, I will continue to embody my solidarity with the resilient herstory of state repression resistors, along with those who will continue to resist after my time. There is no greater betrayal or humiliation to our movement and the Earth than to cooperate with the state."
-Jayden Savino
We made this banner and posted this picture to show Jayden and Katie that we care, that we are paying attention to their resistance to the state's attempts to coerce them, and that we will support them if repressive measures are escalated against them.
Whenever repression comes down on people in and around our struggles, it is important to support them for many reasons. Besides the obvious ethical responsibilities of having our comrades' backs, when they see they are supported, it signals to them that they are not facing the repression alone. This decreases the chance of them cooperating with the state, increases their capacity for defiant resistance, and demonstrates to those looking in on our movements that we are strong enough to resist the state's attempts to foil us.
The confidence that people will have your back if the state comes down on you helps people to both take audacious offensive action, and resist grand juries or other forms of repression and coercion.
For more information on present and recent grand jury resistance, check out these sites:
Standing Rock/North Dakota: https://waterprotectorlegal.org/grand-jury-resistance/
NYC: http://earthfirstjournal.org/newswire/2013/08/20/jerry-koch-grand-jury-resister-speaks/
SLC: https://animalliberationpressoffice.org/NAALPO/2012/05/20/animal-liberation-prisoner-jordan-halliday-on-grand-jury-resistance/
PNW: https://crimethinc.com/2013/02/23/support-the-nw-grand-jury-resisters