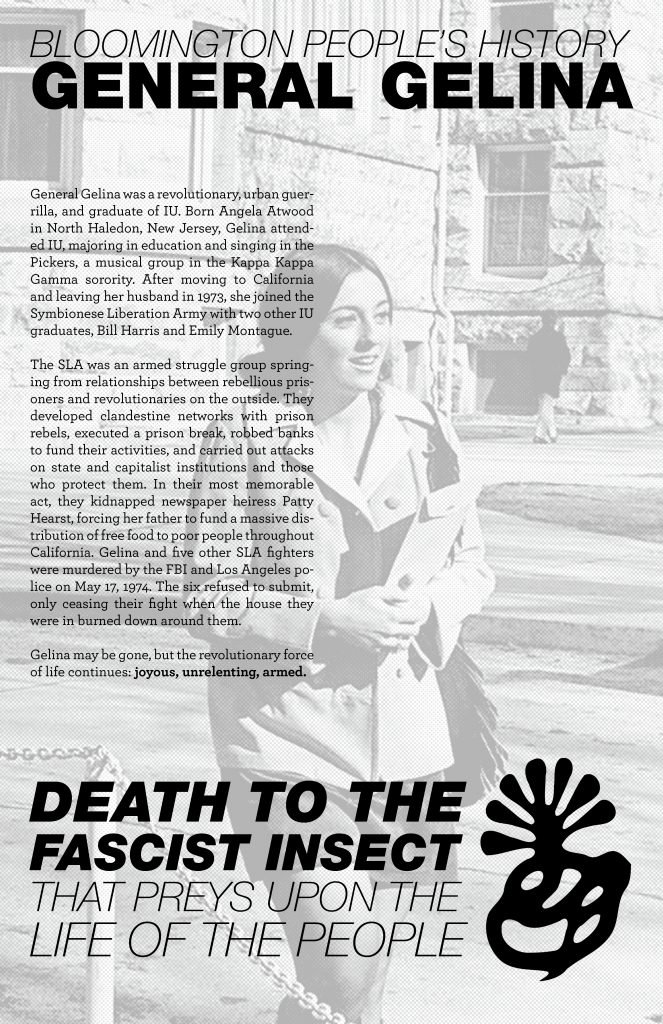 General Gelina (PDF) (Prints 11×17)
General Gelina was a revolutionary, urban guerrilla, and graduate of IU. Born Angela Atwood in North Haledon, New Jersey, Gelina attended IU, majoring in education and singing in the Pickers, a musical group in the Kappa Kappa Gamma sorority. After moving to California and leaving her husband in 1973, she joined the Symbionese Liberation Army with two other IU graduates, Bill Harris and Emily Montague.
The SLA was an armed struggle group springing from relationships between rebellious prisoners and revolutionaries on the outside. They developed clandestine networks with prison rebels, executed a prison break, robbed banks to fund their activities, and carried out attacks on state and capitalist institutions and those who protect them. In their most memorable act, they kidnapped newspaper heiress Patty Hearst, forcing her father to fund a massive distribution of free food to poor people throughout California. Gelina and five other SLA fighters were murdered by the FBI and Los Angeles police on May 17, 1974. The six refused to submit, only ceasing their fight when the house they were in burned down around them.
Gelina may be gone, but the revolutionary force of life continues: joyous, unrelenting, armed.