From Bloomington Anarchist Black Cross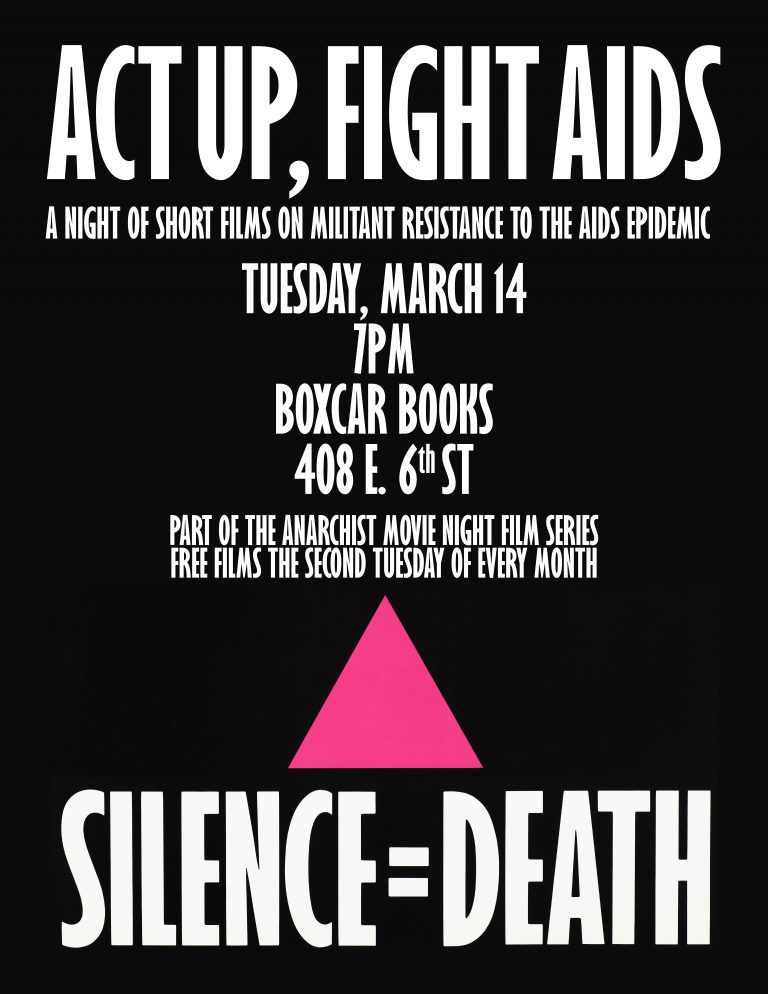 MARCH 14, 2017
7pm
Boxcar Books
408 E. 6th St
Bloomington Anarchist Black Cross presents five short films on militant resistance to the AIDS crisis.
In the Tradition of Stonewall (1994, 29 min)
A short documentary on the unpermitted breakaway march organized by ACT UP on the 25th anniversary of Stonewall.
Holding Steady Without Screaming (1995, 11 min)
A short film subtitled "I Can't Scream Because I Have to Hold the Camera Steady"
…by any means necessary (1994, 6 min)
An angry experimental film based on a text by Kiki Mason.
The Ashes Action (1996, 29 min)
A short documentary on the October 11, 1992 action in which individuals held a Political Funeral for those lost to AIDS, throwing the ashes of friends and lovers on the White House lawn.
David Wojnarowicz (1994, 2 min)
A short piece on queer desire in a time of plague, from the No Alternative home video.
The Anarchist Movie Night is a free monthly film series on freedom and subversion. Showing documentaries, features, cult films, and experimental shorts of an anarchic sort.