by Barney Szyalak
Bloomington is increasingly becoming a place meant for rich and middle class people. In order for that to happen, the city government is cracking down on the presence of poor people in downtown, while real estate developers are building luxury and market-rate housing developments that drive up rent across the city. Cops, cameras, and condominiums complement each other in guiding the city towards becoming a place inhospitable to poor or uncontrollable people.
The Bloomington Police Department expanded its downtown presence last year (Associated Press 2017, 6/12) and finally removed the homeless population from People's Park. This came after Mayor John Hamilton unveiled his Safe & Civil Cities initiative in August 2016 (Banta 2016, 8/11), which aims to make downtown safer for middle-class and rich people, including privileged students and their visiting parents.
To accomplish this, the BPD is installing and monitoring four or five surveillance cameras downtown, an addition to the six added in 2016 located along the B-Line, in People's Park, and in Seminary Square (Gherardi 2016, 8/11). Regarding this technology, Steve Kallams with the Bloomington Police Department said: "The criminal out there sees the cameras–we are hoping they take their criminal offense someplace else." (Eaton 2017, 11/6)
By spitefully wishing "criminal offense" on anywhere that's not downtown Bloomington, Steve's logic complements gentrification, the ongoing process where wealthier people replace poor people in a city, often via rising rent. When this happens, there's a tendency for business owners, city government officials, and Good Citizens to heighten focus on crime associated with people living in poverty in the inner-city. Rather than address the social problems that both cause and result from poverty, police crack down on poor people, luxury housing is built, wealthy people who now feel safe invade the area, and rent goes up. This causes an inner-city's poor to be replaced with rich people. So Steve's criminal offenses and the misery accompanying poverty still exist, they are just pushed "someplace else."
This is not only happening in Bloomington. Developers are building luxury condos while housing is becoming more expensive in cities around the world. Urban living is becoming more culturally seductive to upper and middle-class people everywhere, whose parents or grandparents fled the cities in the 1950s and '60s. These processes are contributing to gentrification, which means more condos, more cops, and more cameras. Except maybe when they're on a mission trip to Africa to collect potential default facebook pictures, rich people don't like interacting with poverty. They would rather move somewhere where they don't have to. This adds motivation for city governments to remove homeless and other poor people to attract capital and rich residents. To accomplish this, more cops and cameras are needed.
There are a number of new housing developments for rich people that have been built or are currently in construction. I will briefly point out and describe some of them to contribute to awareness of how gentrification is happening in Bloomington.
The Foundry
A luxury condo complex called The Foundry is being put up on the B-Line and 6th Street. It's probably most famous around town for having a sign that's been tagged at least twice: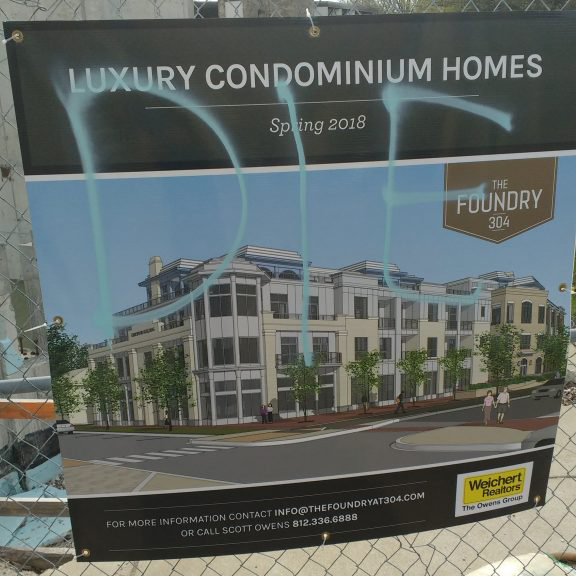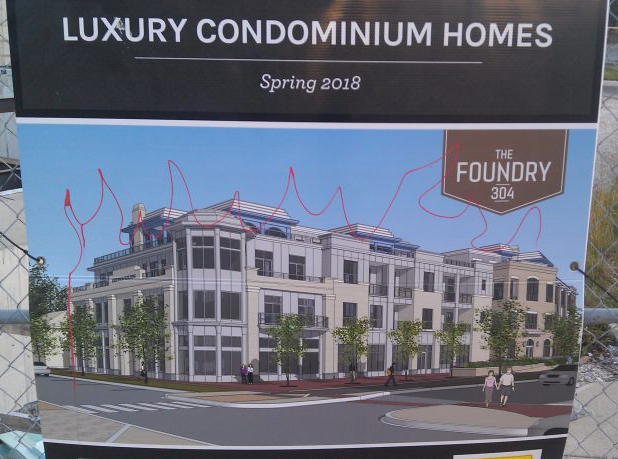 I couldn't agree more with both sentiments expressed here. There are 26 units in this complex, and they are going for $249,900 – $869,000 ([thefoundryat304], Facebook), so if you live nearby, prepare for an influx of rich people into your neighborhood later this year when the project is complete.
Luxury Apartments across from People's Park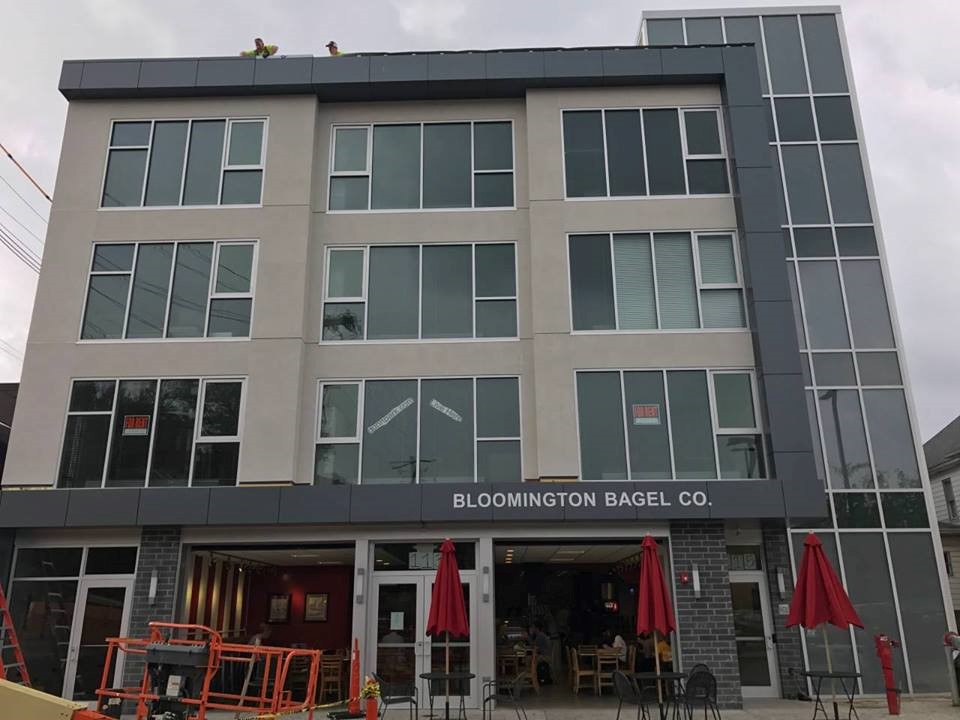 Shortly after the Bloomington cops chased homeless folks out of People's Park this past summer, construction on apartment complex across from the park was completed, and it is now renting out studio apartments for $1,299 – $1,399/month (Apartment Guide, 115 N Dunn St 2018). The correlation appears again: as more yuppies move downtown, the city government has more excuse for social cleansing. In this case, the yuppies would have felt uncomfortable at the presence of homeless people so close to them, who might even have asked them for money when they walked by. Homeless people asking you for money?! Move over ninth circle of hell!
Urban Stations
It's been there for a bit now, but Urban Station Apartments on Walnut Street near Sahara Mart is renting out one-bedroom apartments for $1,269, and two-bedrooms for $1,920 at minimum (Apartment Guide, Urban Station 2018). Who can afford that? Probably the kind of people who feel safe when they see cops.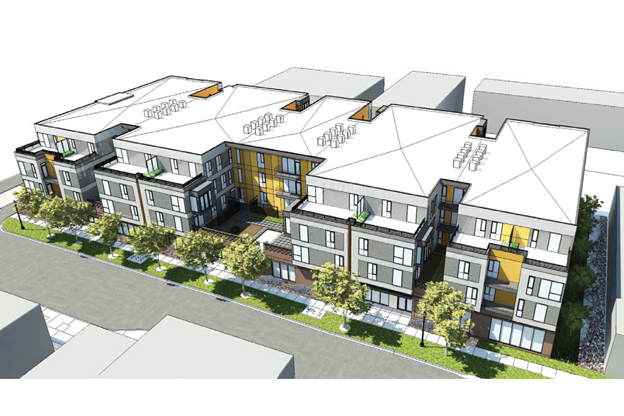 The same developer, H.M. Mac, is trying to get another abomination off the ground, cleverly titled "Urban Station Phase II." It'll be built where Rhino's Youth Center is currently located, so they're offering them a free spot on the ground level. This is a distraction from the fact that, unlike in Urban Station I, "the proposed development does not include a commitment from the developer to make any of the units priced as workfoce housing." (Rollins 2017, 11/13)
Workforce housing, a somewhat nebulous term, seems to imply that for a tenant to qualify, they must make near the median annual income of the area. This means they must be employed, and presumably full-time in order to make that much money. So real estate developers can add a couple of "workforce housing" units to their developments as a bone to throw at liberal city governments, which lets them off the hook so the rest of the units can charge much higher rent. In the case of Urban Station II, they don't even have to do that, because they are letting Rhino's stay there for free (for now).
Evolve Bloomington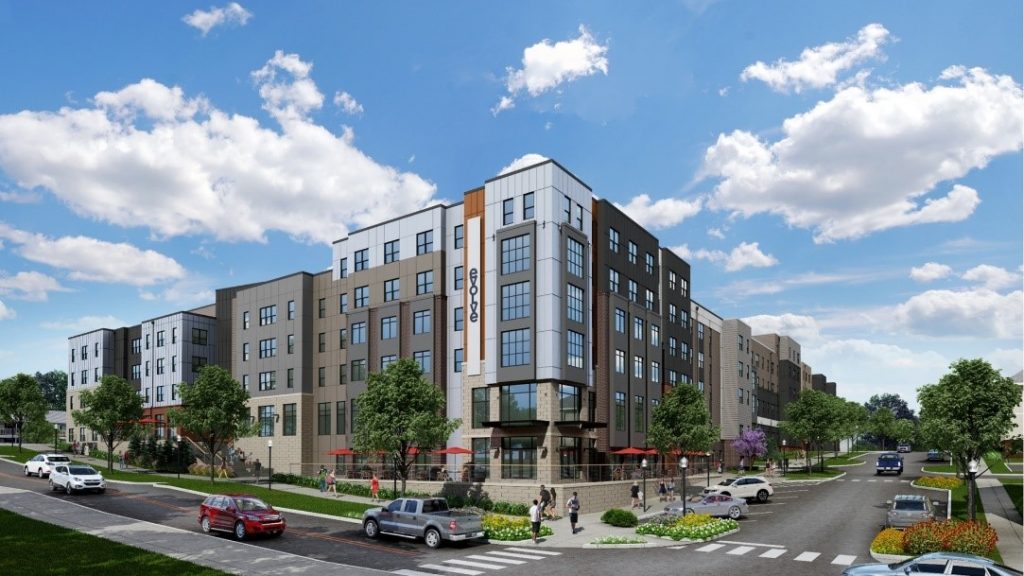 Near the IU Stadium a 400-bedroom housing complex will be finished sometime this year, uncreepily called "Evolve Bloomington." According to the website, this unfinished housing development is present-tense "CHANGING THE WAY YOU THINK ABOUT STUDENT LIVING," and plans to "REDEFINE EXTRAORDINARY." (Evolve Bloomington 2018) That hardly seems necessary since the definition for the word "extraordinary" was updated on Merriam-Webster's website as recently as January 13, 2018 (Merriam-Webster Dictionary, Extraordinary). They don't list any prices on the website, so it's safe to assume it'll be rented out to rich east-coast undergrad students and Kelley MBA's who want to be able to drunkenly stagger to and from the stadium.
Tapp Road development
There is a 111-unit housing complex going up at 2182 W. Tapp Road that will be 10% workforce housing (Christian 2017, 3/7). So that means 90% of the units will be for rich people, while the cost for 10% will be "set at a fixed rate related to the minimum wage." How can there be a single, fixed rate related to the minimum wage when minimum wage earners often don't work full-time? There can't, so one can assume they mean the fixed rate will be "related," whatever that means, to the wages of someone working full-time hours. In that case, those 10% of tenants are allowed to live there, but only if they work enough to be too tired to have any kind of meaningful or interesting life.
Echo Park Apartments
Echo Park Apartments on 2780 South Walnut St Pike is charging $899/month at minimum for a one-bedroom unit. (Apartment Guide, Echo Park 2018) This one-star review has been posted to their facebook page: "Ridiculously overpriced and bland rentals that are neither urban nor forested as they claim. They cut down 10 acres of woods to build this monstrosity and then added balconies that overlook the backyards of neighboring houses. Bonus points for false advertising a dog park and walking trails, neither of which exist, and for promising to plant an evergreen buffer between the apartments and neighboring houses (spoiler alert: they never did and its been well over a year). Know that if you move in here your neighbors already hate you. Gentrification at it's finest." ([echoparkbloomington], Facebook) Well put.
Conclusion
Bloomington is not an unaffordable, tightly-packed, constantly-surveilled dystopia yet. There are more condos, cameras, and cops now than in the recent past, and there will be even more of all three in the future. This piece is not meant to produce a feeling of hopelessness, but rather point out to those who are threatened by these new developments how the situation here is changing, so we can adapt. The forces of order are still not omnipotent, not even close.
Citations
Apartment Guide. 115 N Dunn St. Retrieved from https://www.apartmentguide.com/apartments/Indiana/Bloomington/115-N-Dunn-St/2031529/ on 1/15/18
Apartment Guide. Echo Park. Retrieved from https://www.apartmentguide.com/apartments/Indiana/Bloomington/Echo-Park/100028459/ on 1/15/18
Apartment Guide. Urban Station. Retrieved from https://www.apartmentguide.com/apartments/Indiana/Bloomington/Urban-Station/100030029/ on 1/15/18
Associated Press (2017, 6/12) Bloomington Police Increase Downtown Presence After Complaints. Indiana Public Media, http://indianapublicmedia.org/news/bloomington-police-increase-downtown-presence-complaints-121417/ . Retrieved on 1/15/18
Banta, Megan (2016, 8/11) Mayor Unveils Effort to Make Downtown Bloomington More Safe and Civil. Herald-Times Online, https://www.heraldtimesonline.com/news/local/mayor-unveils-effort-to-make-downtown-bloomington-more-safe-and/article_7003f56a-5f6c-11e6-bd11-ef5f74cb91d2.html. Retrieved on 1/15/18
Christian, Kurt (2017, 3/7) Dunnhill Nears Groundbreaking; Adams Village proposal sent to city council. Herald Times Online, https://www.heraldtimesonline.com/news/local/dunnhill-nears-groundbreaking-adams-village-proposal-sent-to-city-council/article_a45c2fec-02f7-11e7-aed6-6ff7253649fa.html
Evolve Bloomington. Retrieved from https://www.evolvebloomington.com/ on 1/15/18
Eaton, Lindsey (2017, 11/6) Bloomington police adding more security cameras downtown. CBS Indianapolis, http://cbs4indy.com/2017/11/06/bloomington-police-adding-more-security-cameras-downtown/. Retrieved on 1/15/18
Echo Park Apartments Bloomington. [EchoParkBloomington] Retrieved on 1/15/18 from Facebook: https://www.facebook.com/EchoParkBloomington/
Gherardi, James (2016, 8/11) Downtown Bloomington Will See Security Upgrades in Time For Returning Students. CBS Indianapolis, http://fox59.com/2016/08/11/downtown-bloomington-will-see-security-upgrades-in-time-for-return-of-students/. Retrieved on 1/15/18
Merriam-Webster Dictionary. Extraordinary. Retrieved from https://www.merriam-webster.com/dictionary/extraordinary on 1/15/18
Rollins, Ernest (2017, 11/13) Plan Commission OKs Revised Urban Station 2. Herald Times Online, https://www.heraldtimesonline.com/news/local/plan-commission-oks-revised-urban-station/article_5fd276f7-59c9-5bb1-ac75-41b41d0d412f.html. Retrieved on 1/15/18
The Foundry at 304 [thefoundryat304] "Premium Downtown Condominium Community From $249,900 – $869,000." Retrieved on 1/15/18 from Facebook: https://www.facebook.com/pg/thefoundryat304/about/?ref=page_internal