Reposted from It's Going Down (original date: 1/21/17)
People worked their way out of the shadows to meet at People's Park. Participants were handed complimentary gift bags which included a handout on safety in the streets, face and hand coverings, noisemakers, and other fun items for a night out on the town. It feels like a sign of the times that all of these tools were enthusiastically accepted and used by most people who received them. It doesn't seem hard for people to understand that in order to fight this regime and its "Alt Right" foot soldiers, we need to begin to protect ourselves and each other.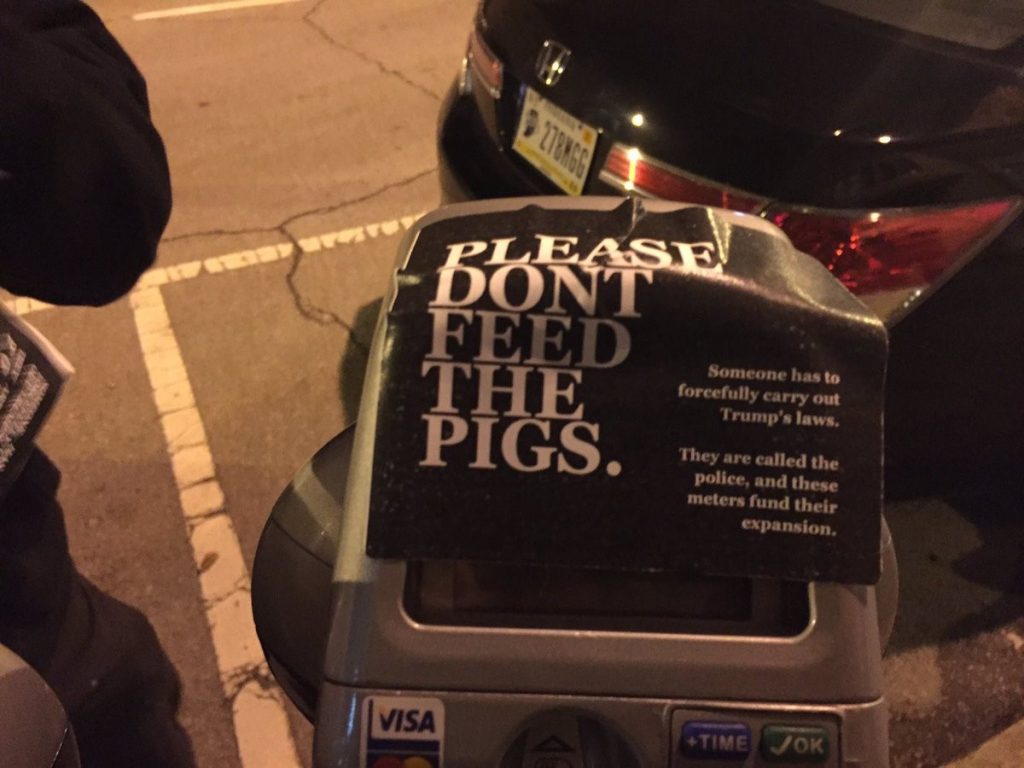 While the small, but energetic, crowd of around 30 took the streets shouting "Fuck Donald Trump", crews broke off in relative ease to relax by each of the city's parking meters down Kirkwood, the main street in town. The meters were decorated with stickers drawing connections between the meters and the police (meter money helps fund the BPD). Stickers decorated with "Don't Feed the Pigs," solidarity slogans with refugees and prisoners, anti-police and Trump messages were placed strategically on the solar panels that power the meters in an attempt to sabotage their functioning. And let's just say the pigs will go a little hungrier these days as the locks on over 35 meters were disabled with glue and/or had their card and coin slots blocked with expanding foam.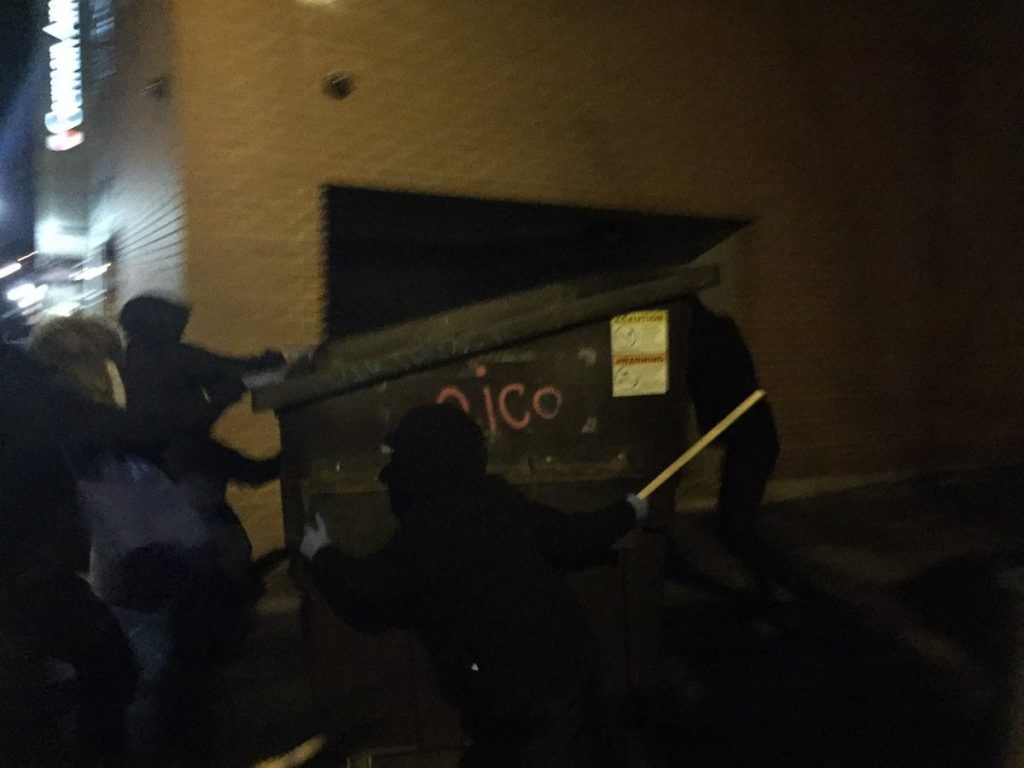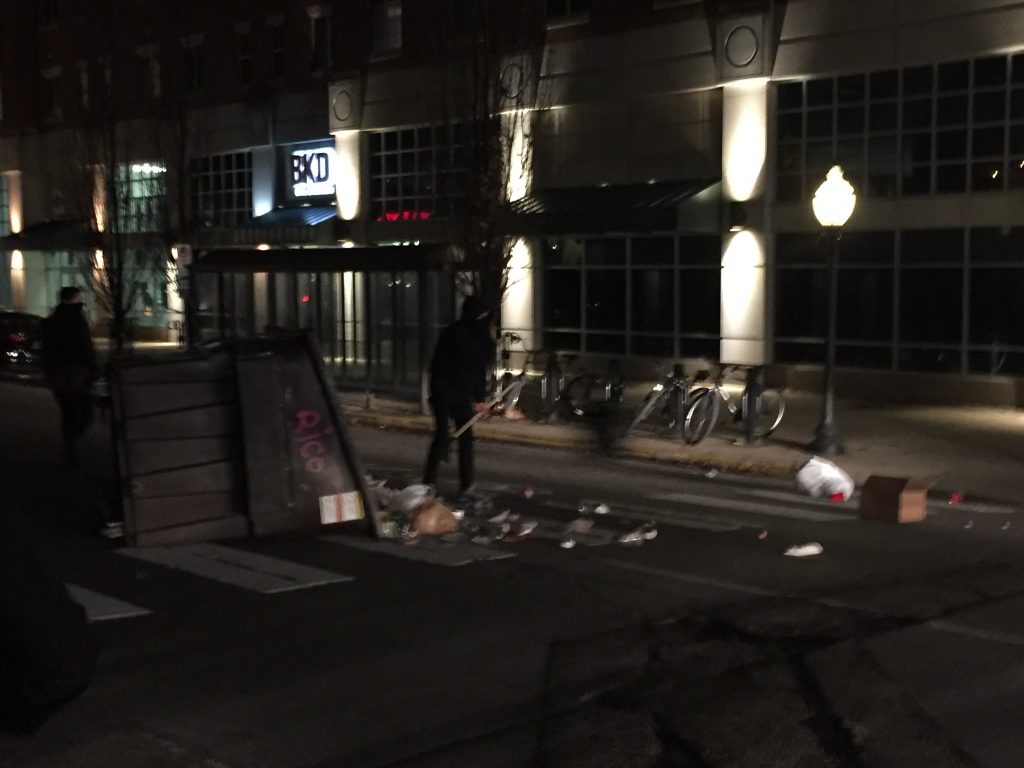 But our bellies were full of rage! As the march approached the building of Indiana University's School of Informatics and Computing, balls full of paint were passed throughout the march. Individuals threw a dozen paint balls at the building as chants went up against Trump and the national security apparatus he now controls. The School of Informatics and Computing is directly tied to the ever-increasing web of control that Obama has perfected over the past 8 years, and which Trump will now inherit. The department's Center for Complex Networks and Systems Research is funded by Defense Advanced Research Projects Agency (DARPA), Intelligence Advanced Research Projects Activity (IARPA), the Office of Naval Research (ONR), and prison profiteers Eli Lilly and Company; it has ties to the National Security Agency (NSA) and U.S. Department of Homeland Security; and it has connections to JP Morgan Chase and AT&T, Microsoft and IBM Life Sciences, and other architects of the open air prison in which we live.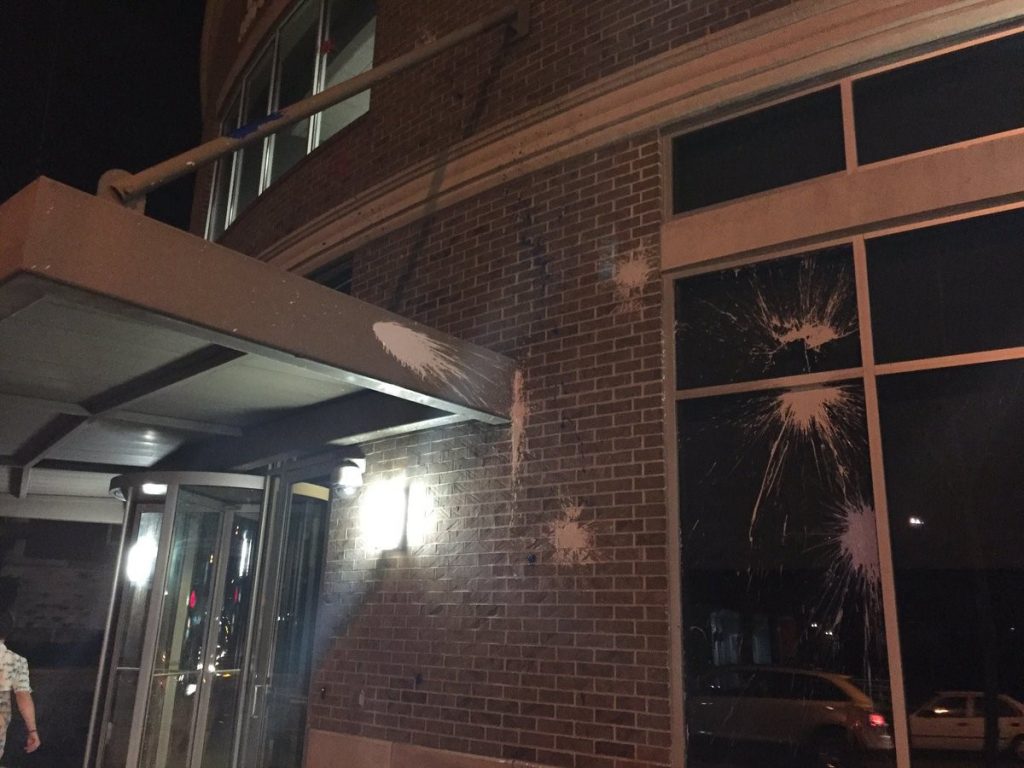 Onwards towards the Monroe County Jail! But first, it seemed like the right time to drag a bank's rolling dumpster into the street, overturn it, and scatter its contents. With the dumpster blocking traffic, we came upon the jail, which received a beautiful new paint job as the crowd rained paint balls down on its pristine Indiana limestone. People are sick of suffering as their friends and family are locked up by the pigs with the guns and the pigs with the gavels, and are ready to fight back. Freedom to the prisoners!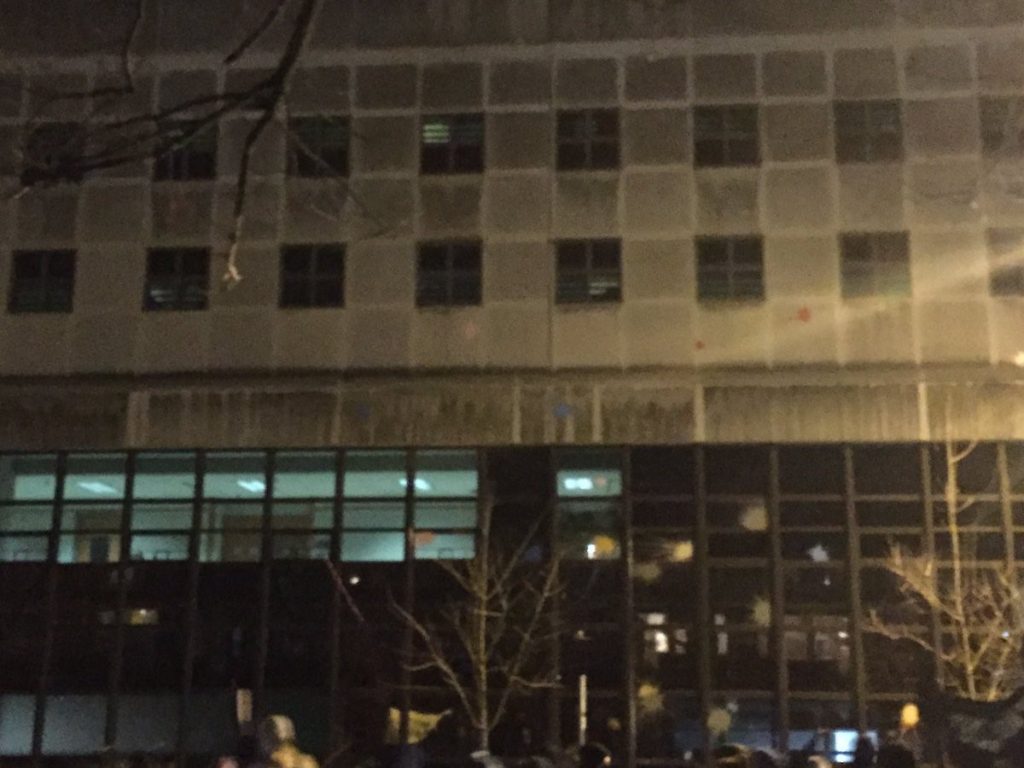 Metal trash cans, news boxes, sandwich boards, flares, and flash fireworks were thrown and brought into the street as we proceeded back down Kirkwood keeping cars at a safe distance from the crowd. Why waste our time getting in petty back and forths with bystanders or people when there are more fun things to do?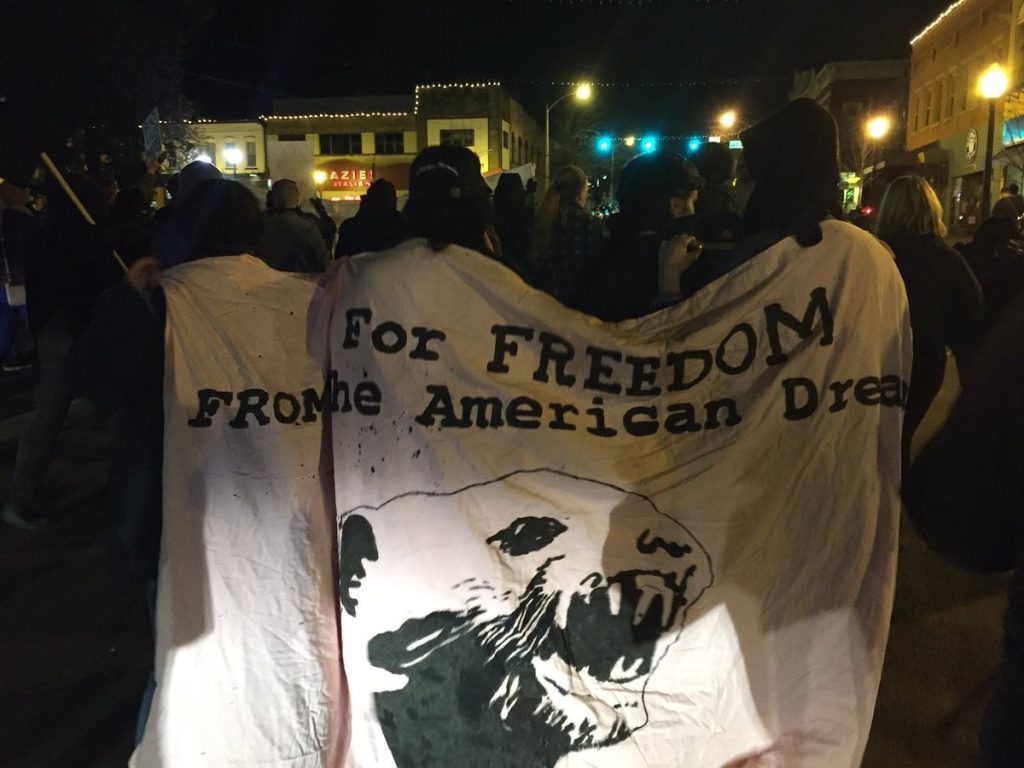 With streets blocked and the spirit of the crowd strengthened by the progression of attacks up to this point, individuals began kicking things up a notch. Multiple ATMs were smashed, a bank entrance was repainted, and a bank window was smashed. We know that the coming years will require much of us. We have many skills to develop, projects to create, and social spaces to liberate. But without a capacity to fight – to attack those who want to murder, imprison, and deport us – our struggle will remain forever on the defensive. Last night showed that caring for each other, getting organized, being courageous, challenging our self-imposed boundaries, and attacking our oppressors is not only possible, but joyous, playful, transformative, and effective.
As the march hit its end, we made our way to IU's sample gates where a smoke bomb was let off and people dispersed into the night laughing and celebrating. Day one of the Trump administration, day one of a new terrain of revolt and social struggle. We have only begun to fight.